Today more than ever, insecurity takes an important place in social debates. Women are unfortunately among the most affected populations. Expert in self-defense for several years, the learn-selfdefense.com team decided to launch the "Fatal woman" range; a range of self-defense products adapted to the needs that we have identified.
This range offers products that are easily transportable and adaptable to the situations encountered on a daily basis. Their girly design is aimed at women who want to blend these self-defense items with other everyday accessories.

Piranha tear gas canister
A pen that does not lack spice!
You always need a pen in your purse, so if it can protect you against assault on top of that, that pays off! The refillable Piranha pen contains approximately 3 grams of active agent, which gives you 6 sprays at 1.5 m range.
The mini Hurricane bombs
A mini bomb that has everything a great …
This mini Hurricane bomb may turn the heads of too insistent boys. With its small size and an ideal grip, it contains enough pepper gel to repel a group of attackers. Equipped with a dazzling LED and a safety catch, it will slip easily into your pocket.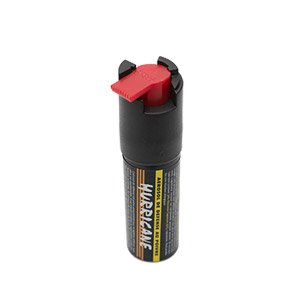 LipStick Taser
Put some electricity in the air!
It looks like a lipstick, it's the size of a lipstick, but it's not a lipstick! With its 1,500,000 volts, you have an asset both discreet and ultra powerful that can easily get you out of a bad situation.
The Mini Shocker
A little less cute than it looks …
Make no mistake about it, this little pink box measuring less than 9 cm will surprise more than one! With a power of 2,000,000 volts, this mini Shocker is a formidable weapon and allows, in addition to its electrifying function, to dazzle a potential aggressor or to signal your presence using LEDs.
17ml aerosol
The practical & effective tear gas canister
The perfect bomb to make you a formidable Fatal woman, while maintaining maximum discretion. Its gel active agent, ideal for interiors, is mixed with pepper for a formidable effectiveness against humans and animals.
Pocket alarms
Protect yourself effectively and without violence
You don't feel like you are pushing an active substance in your attacker's face, but you still want to feel safe? The alarm key ring is the product for you. Depending on the model, the trigger can go up to 120 decibels! By keeping it close at hand, you can effectively alert passers-by in the event of an assault and put your attacker to flight.
The arrival of products with a girly design in this sector corresponds to a certain but not general expectation. Indeed, a woman who is interested in self-defense may obviously prefer less "girly" ranges! For that, no problem: find our selection of self-defense products for daily use or a selection to help you choose from a self-defense selection dedicated to the home.
See you soon,
The learn-selfdefense.com team