Sturm Mil-Tec is a German company founded in 1971 in the city of Rottenburg am Neckar. Specialized in tactical and outdoor products, it is present internationally. Comfort, robustness and low prices are all qualities that explain the success of Mil-Tec military backpacks.
Mil-Tec military backpacks
Tactical military backpacks adapt to many situations. Initially planned for military training or missions, they can nevertheless be used in other areas such as survival courses, the bushcraft or even the Trek.
A versatile military bag: the US ASSAULT 36 liter backpack
The US Assault 36L backpack is the most versatile of the brand. Weighing only 1.6 kg for a capacity of 36 liters, it offers two large compartments with zips and nets as well as a large front pocket with zip. Its compression straps on the side reduce the volume of the bag when it is not completely filled.
This tactical bag is excellent value for money for small expeditions ranging from one day to three days. Its padding at the shoulder straps and its reinforcement at the back make it very comfortable and ergonomic. Robust, it has various MOLLE attachment points to carry all your small equipment as well as a scratch compartment for the hydropack.
Versions disponibles : noir, coyote, camo CE, marine, vert Foliage, vert olive, gris, W/L camo, BW Camo, vegetato camo, W/L arid camo, MIL-TACS FG camo, tropertarn camo, AT-DIGITAL camo, DIGITAL W/L camo
A tactical bag for short expeditions: the US ASSAULT 20 liter backpack
The Mil-Tec US ASSAULT 20L backpack is ideal for missions and short expeditions ranging from a few hours to a day. It allows you to store the essentials to leave without cluttering up. Still as robust and comfortable as the 36 L version, it is also equipped with a hydropack compartment and a MOLLE fastening system for attaching small equipment. For only 1 kg, it quickly becomes essential on a daily basis for law enforcement, the military or the followers of Trek or from bivouac.
Available versions: coyote, black, CE camo, navy, olive green, green / black, green / coyote
A waterproof military bag: the Mil-Tec Dry-Bag 35 liter backpack
This Dry-bag 35L tactical backpack is made of 70% polyvinyl chloride and 30% polyester, which makes it resistant to splashes, but also to a brief immersion in water. This bag is suitable for wetland expeditions or in the event of a rainy weather forecast.
Available versions: black, green
For large expeditions: the 'RECOM' 88 liter backpack
This tactical military backpack is particularly suitable for long term expeditions thanks to its capacity of 88 liters for a weight of approximately 1.7 kg. It consists of a large compartment with drawstring and another compartment separated by a snow apron. On the outside, the bag offers three new compartments. A rain cover is integrated into the bag.
Available versions: Black, LTR VA, LTR PES Coyote
Water-repellent and comfortable: the 55-liter commando backpack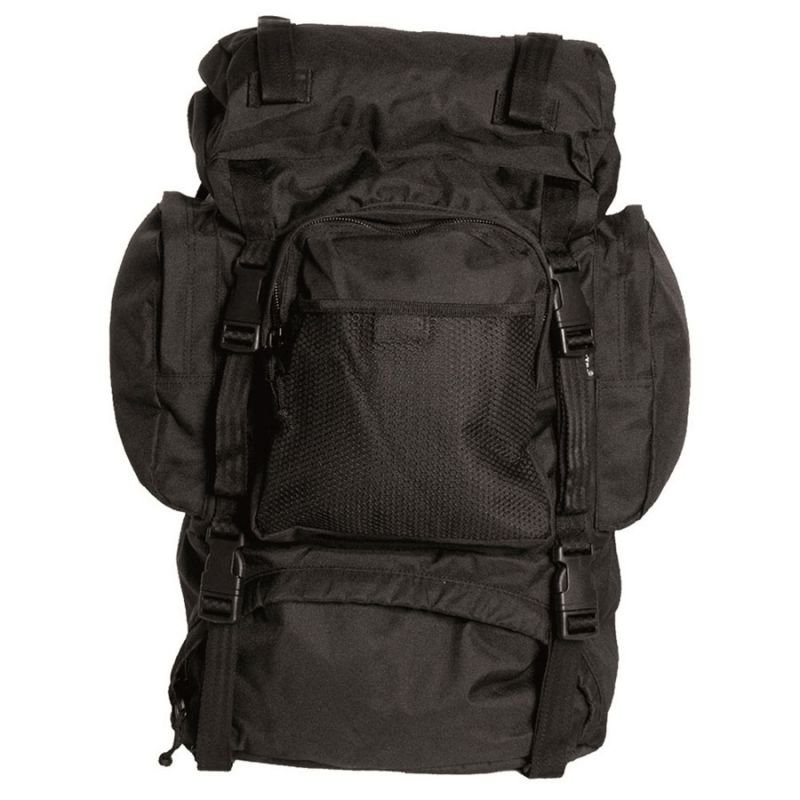 The Mil-Tec 55L commando backpack is composed of a large main compartment with brake cord and pocket, three fixed exterior pockets, an exterior mesh as well as two pockets with zip on the belt strap. Robust with its aluminum frame, it remains comfortable enough for intensive use thanks to the padding of the back, shoulder straps and abdominal strap.
Available versions: black, olive green
Military-inspired backpacks for the urban environment
Walker backpack 20 liters
The Walker 20L backpack is a recreational military backpack consisting of a main compartment with snow guard and two adjustable clip closures. Lightweight and practical with its zip closure on the side of the back, it is ideal for daytime adventures in nature or in the city.
Available versions: gray, black, coyote brown, olive green
Backpacks with a strap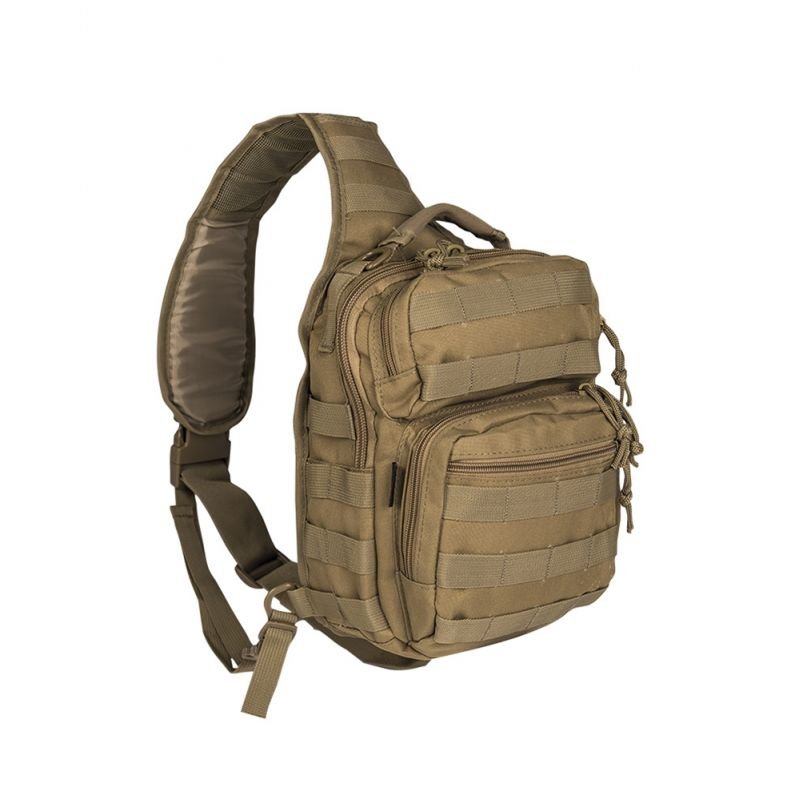 Available in two versions, 10 L or 29 L and in several colors, tactical backpacks are inviting in an urban environment. The ergonomic, padded shoulder belt is adjustable and the back is reinforced for added comfort. In its most compact version, the bag weighs just 550 g. The 29 liter version weighs 1.1 kg. Water-repellent treated, these bags are perfect for daily trips around town.
Available versions 10 L: Woodland, coyote, black, olive green
Available versions 29 L: black, woodland, olive green, multitarn, coyote
How to choose the right tactical backpack?
Several criteria must be taken into account when choosing a military backpack:
The capacity
The number of compartments
Comfort
Appearance (dark or light camouflage pattern, etc.)
The weight
The price
At SELF DEFENSE TECHNIQUE, we offer a wide selection of Mil-Tec brand backpacks to meet all your needs. Do not hesitate to order, delivery is free from 39.99 € and returns are free.
The German company Sturm Mil-Tech does not only offer backpacks. Come and discover all the Mil-Tec brand products in our online store.